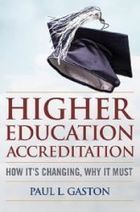 In a recently released book, Paul L. Gaston tackles big questions about accreditation in US higher education, while also giving plenty of detail about how US agencies work.
Inside Higher Ed caught up with him over email to discuss some of the topics covered in the book, which is titled Higher Education Accreditation: How It's Changing and Why It Must.
ECA's insight:
Compare and contrast the US situation with the one in Europe and, if you are European, understand how much further the discussion has come in the European Higher Education Area.